Hello and welcome! This is Ted with MortarSprayer.com, and today we're talking to Lisa Nudo of LaFarge, Wisconsin. Lisa and her partner, Aaron, along with their two boys Clovis and Bryer spent several years building a STRAW BALE TIMBER FRAMEhouse on their property in the Kickapoo Valley of Southwest Wisconsin's Driftless Region.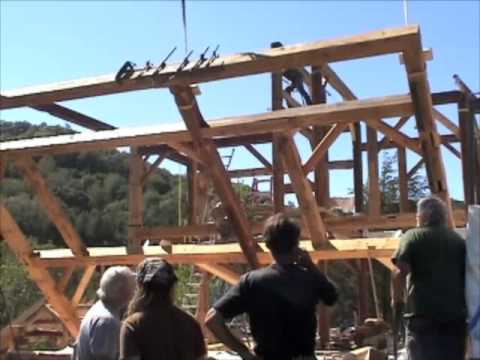 The Nudos held a traditional house-raising to construct the frame portion of their straw bale timber frame house.
MortarSprayer.com —Now, Lisa, for those who don't know, tell us what a straw bale timber frame house is.
Nudo – Well, ours is a straw bale hybrid of sorts, two walls are stacked straw bale wrapped to the outside of the actual timber frame structure, so the bale walls are not load bearing. We used local oat straw, two string bales, so our walls are 18″ thick with approximately one inch of lime plaster on either side. For an assortment of practical and structural reasons the north and south walls are damp packed cellulose stick frame, however they are staggered stud walls so as to break any thermal bridges in the studs. In other words, the south wall is 8″ thick, framed with 2×4's that are staggered 12″ on center, but every other stud either sits to the outside and the studs between sit to the inside.
MortarSprayer.com –Is this type of construction fairly common where you live?
Nudo – No, not really. There are a handful of braves who go down this path, and the ever-growing, green-building revolution is alive in Wisconsin, so it seems there is an increasing number of us crazy, non-conventional builders.
"I strongly feel we wanted to craft a home, not just slam it up." — Lisa Nudo
MortarSprayer.com – Now, can a straw bale timber frame home be built anywhere?
Nudo – Seems it could, but every climate demands you play by the rules. You must evaluate the environment you live in and build accordingly. Perhaps straw bale would not be as practical as some other natural building system for a specific region. There is no perfect recipe for all climates.
MortarSprayer.com – And how does a straw bale timber frame-home stack up to most of the homes built in your average housing subdivision?
Nudo – Ha! It surely has more character! On a similar note, to endure the process of building straw bale – that's a real character builder! It clearly is a slower process of building, but I strongly feel we wanted to craft a home, not just slam it up. Straw bale is crafty. We will be gaining a lot of mass for storing and regulating the internal temp of the house. The walls are thick and very substantial. The walls are embracing. And the slight irregularity of plastered walls is just lovely. All this depth and character often lacks in these other typical homes.
MortarSprayer.com – Lisa, tell us what it was that attracted you to this type of construction.
Nudo – Wow, that's a call to our character. We are resourceful, we don't choose to have a large income, we work hard and we are both rather craft-crazed. I am a habitual dumpster-diver, repurposer, recycler, and we both practice a variety of primitive and traditional skills. So, really, it comes back to us desiring to craft a unique home, a story. Straw bale, timber frame, traditional plaster, solar water, ram pumps, composting outhouse – it's a way of life. It's how we roll.
MortarSprayer.com – Did you already have a parcel of land picked out before you decided to build a straw bale timber frame home?
Nudo – We met and knew we wanted to live on the land, as we both had been doing individually. We bought this parcel in Hoot's (Aaron's) home neighborhood only knowing we were going to do a lot of something here while raising our family. The idea of straw bale was one that took time to creep in. Like many, we were skeptical at first and not sure it was a good fit for this climate. I got rather research-crazed and started to look for cold-climate straw bale info, and in the wake of others' courage I, too, found sense and courage to make this system work.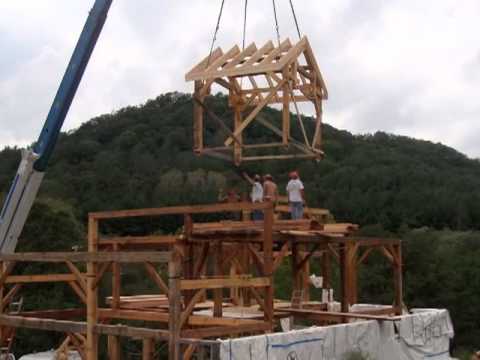 The Nudos begin construction on the timber frame cupola, or dome, of their new straw bale timber frame house.
MortarSprayer.com – You know, personally, I find the story behind where you guys got the logs to build your home rather interesting. Tell us a little bit about how you came across these logs and how you were able to incorporate them into your new home.
Nudo – We have a friend with a portable saw mill. We had worked with him before. Aaron had his curiosity about timber frame perked by some friends who had done it. Hoot is a tree man. He's planted hundreds of thousands of trees, done sustainable forestry, helped start the Kickapoo Woods Co-op, ( a sustainable forestry co-op) harvested timber, carved an assortment of wood items and makes primitive bows. Wood is his calling. So timber frame it was, as we discussed our future home.
Ironically, a local large transmission line was due for a 60 year tune up, and they had to widen the right-of-ways to get their equipment in. There was an area with several small parcels of land on a steep hill with what looked like matchsticks speckling the hillside, logs of many species left to rot as it was not worth the hassle for local loggers to go get the wood. A scavengers delite! Aaron offered a fair log price to the land owners and they were glad it was not going to waste. An entire summer of milling (when we could) and hauling the wood home ended with so many piles of lumber and beams equaling approximately 30,000 board feet! We had beams, flooring, sub-flooring — wood, wood, wood. Our friend, Sawyer Sam, is a gift. He let us use his trailer, and even his truck at times, to move loads.
MortarSprayer.com – I understand Aaron, or "Hoot" as he's sometime's known, actually took a class on joinery. Was this something he did in anticipation of this project?
Nudo – Definitely. He realized he was sitting on a wealth of beams worthy of much more timber-framing knowledge!
MortarSprayer.com – This all sounds like it was just a huge undertaking. Tell me, how were you able to accomplish all this construction?
Nudo – I have no clue how we do it other than it seems we just can't help ourselves. It just is our way of life for now- we talk about all the things we will do when we're finished, but that seems unreal for now.
"We built a small bath house/sauna as a test run for some of our ideas, one being the succulent roof. It's lovely and un-ordinary." — Lisa Nudo
MortarSprayer.com – Lisa, what does sustainable living mean to you, and why is it important?
Nudo –Sustainability comes down to salvage. Give everything at least two or three lives, if not more. Reuse almost everything, consume less, make disposability a shame, make more from scratch, grow, forage, and put up more food. Respect all resources. We all can be more sustainable.
MortarSprayer.com – Can you tell us about some of the more interesting features of your home? I understand the roof is not what you would call an ordinary roof?
Nudo –Much of the roof is steel, but a section will be a lighter-weight "living" roof.
MortarSprayer.com – Interesting. What does that mean?
Nudo – We will have 2-3 inches of soil on top of several other layers in which succulents will be planted. We built a small bath house/sauna as a test run for some of our ideas, one being the succulent roof. It's lovely and un-ordinary.

After the straw bales were in place, the Nudos used Mortarsprayer.com's Stucco Sprayer for Walls to distribute lime plaster over the top.
MortarSprayer.com – Tell us about the cupola.
Nudo –We live in a tight valley, so we wanted to build up a tower-like-structure to catch some breeze for summer cooling, as well as for the great view. At the work shop Hoot went to he got to take home the blue prints for a small hammer-beam, truss-style frame structure they built at the workshop. So…as a tribute to that he built it on the ground, and a crane flew it up to it's final resting place– the highest point of our house.
MortarSprayer.com – So now this acts as a cooling tower?
Nudo –A cooling tower and real cool place to go access the living roof.
MortarSprayer.com – I understand it was you who took on plastering duties. Do you have a background in plastering?
Nudo – None other than self-taught. I practiced on the sauna building. I really enjoy the whole process and finished product.
"I was new to the mortar sprayer, so I was unsure of the speed it would sling plaster onto the wall. After about day 2 we had the rhythm down, and then we danced!" — Lisa Nudo, LaFarge, Wisconsin
MortarSprayer.com – It must have been a challenge to spray all that stucco. How did you accomplish this?
Nudo – For clarity, we sprayed traditional lime plaster, not stucco, which implies Portland cement. Our mix was lime putty and sand with a small amount of kaolin clay pozzalon. Another wonderful friend loaned us his super nice mortar mixer. I had to go out of town and fall was upon us, so I got into marathon mode, set a goal, and did what it took. We had the outside 1,000-ish square feet plastered in four days (some breaks in there) and the inside came a bit later, but same deal, just did it, worked hard for a short time and got it out of the way.
MortarSprayer.com – Did it take as much time as you anticipated?
Nudo – I was new to the mortar sprayer, so I was unsure of the speed it would sling plaster onto the wall. After about Day 2 we had the rhythm down, and then we danced! Pre- mortar sprayer, I was sure this job would take much longer than it did as I was well aware the scratch coat on straw bales eats a large quantity of material. Just getting it on the wall is a lot of work and time.
MortarSprayer.com – What would you say to other folks considering a straw bale timber frame home?
Nudo – Hoot would say "Don't do it!", but we know our learning curve was real steep. I would say only if you are an extremely detail-oriented person who has lots of patience, enjoys the process of problem solving, and can spatially look ahead. Have a lot of like-minded friends not afraid to get dirty. "Pay as you go" prevents debt and forces breaks. These breaks are a funny thing. A lot of learning and plan-changing happens during the down times.
Get some hands-on, network with experienced people, go to workshops, build yourself a library, and adjust to your specific climate. Read! Read! Read! Ingenuity and logic are a must. Alternately, you could have a bunch of cash and pay someone crazier than you to build it for ya!
MortarSprayer.com – Is there anything else you would like to add?
Nudo –We have been dedicated to this house project for almost six years. Our kids have grown with the structure, our family support is priceless. Aaron's mom, dad, sister, and nephew have been our mules. My dad has been our tool library and electrician. My mother and step-dad have always had faith, and many of our friends have left many marks in the house. This has truly been a community affair.
Mortarsprayer.com – That's all for now. Thanks for reading, and thanks to the Nudo family for sharing their insights and experiences building a straw bale timber frame house for themselves using our stucco tools.