Stucco Tools
Choosing the right tools can help a project for speed and ease. A stucco sprayer can be many times faster than the old hawk & trowel.Read more…
On March 31st – April 4th, 2010, Steve Shirley and a bus load of 19 volunteers including Bible School students, Pastors and church members traveled to Haiti to rebuild the first phase of the walls that had fallen in the Quake. Over 600 linear feet of them fell during the earthquake in January and there is no security at the compound. The group rebuilt the wall with 100 4′ x 8′ Emmedue M2 foam panels with welded wire mesh on each side, and 1000 bags of 94 lb special cement/sand mix already prepared from the local cement company in Santo Domingo for the first phase.
First they cleaned off the old footing and dug 2 foot deep holes every 12′ to place columns. Each column was made of 2 pieces of 2.5″ by 2.5″ angle iron welded together in a z form. In 4 days they were able to put up 228′ feet and plaster both sides of the walls. The next phase is approximately 400′.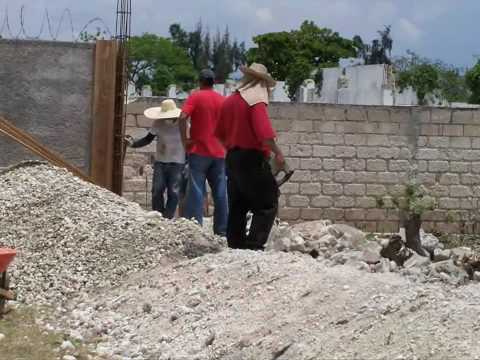 If you would like to help, contact Steve atUPCDR@hotmail.com or visit his website at www.shirleysdr.com.
Ron Brian is the missionary living on site and supervising the rebuilding if you would like more information you can contact him at rbrian5179@aol.com We will be adding updates about this project on this page as soon as we get more information.
Stucco Sprayer for Walls
The Tirolessa USA Stucco Sprayer can be used for applying plaster, shotcrete, papercrete, earthen mixes, plastering a stucco house, traditional one coat or three coat stucco, GFRC, stamped concrete, stucco fences, organic sculptures, and more!
Wall & Ceiling Stucco Sprayer
The new Wall and Ceiling Combination Sprayer has a stainless steel hopper for unmatched durability. The unique hopper angle and overflow flap allows for application on ceilings or higher areas. It can be used to spray mortar, plaster, small scale shotcrete, papercrete, earthen mixes, and more!
3-Hole Plaster Sprayer
The Plaster Sprayer is a favorite tool of concrete artisans and plastering professionals. The stainless steel hopper is extremely durable and easy to clean. The extension handle and hopper handle are designed to give you good control, balance and comfort while you are applying material.
Back to the Stucco information page